5 Festive Cookie Decorating Tips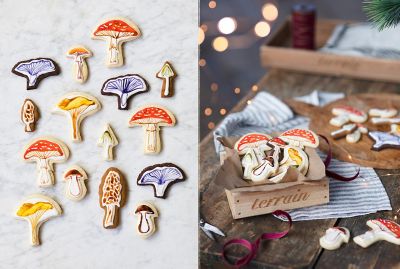 Recently, we hosted our annual holiday cookie exchange, when terrain team members show off their baking skills by bringing a batch of their favorite festive cookies to the office for sharing. Laura Harris Twilley, our art director, hosts the highly anticipated event and always blows us away with her gorgeous treats. This year, Laura went with a festive fungi theme using her family recipe (found here) and we sat down with her to hear her five best tips for holiday decorating.

1. Let nature be your guide. Laura referenced historical illustrations of mushrooms as her inspiration. She says "when you're thinking about what to make, referencing something real isn't just easier, it's usually more beautiful too." Vintage botanical illustrations of succulents, flowers, trees, and shrubs are always going to look beautiful and feel special.

2. Customize your cookies. "I started with just a couple standard mushroom-shaped cookie cutters to create the varying shapes and sizes," Laura explains. She says she's always modifying a shape by using two cutters for one cookie or cutting away the sides and ends of a cookie to get the exact shape she wants.

3. Be patient. "The icing is the hardest part," Laura says. The royal icing can be tricky to get right, and it may take a couple tries to reach the perfect consistency for the cookies. "It's a time-consuming process," she says, "so give yourself a few days to tackle each step - one day for making the dough, one day for making the icing, and one day for painting."

4. Have confidence. These cookies are meant to delight your friends and family, Laura reminds, so don't get bogged down in the details. "This isn't the time to be too precious," she says, and recommends just going with the flow as you paint your designs.

5. Get creative. She says the painting is the most fun part, and recommends getting a very fine point paint brush from the craft store to get the detail you'll want. She likes to start with a light brown outline before filling in the designs with color and waters down gel dyes to get the exact consistency she needs.

We think these holiday cookies make the perfect hostess gift but if you're low on time, visit our Hostess Gift Shop for special ways to say thanks.
You May Also Like: