5 Styling Tips for Holiday Gifts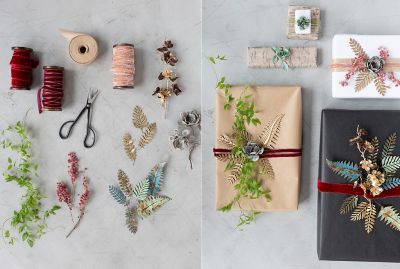 The gifting season is well under way, and there's nothing we love more than adorning our packages ribbons, berries, and bows. From rustic kraft wrapping paper to gilded metal leaves, we're adding nature-inspired trimming to each of our gifts - and our talented stylist, Adelyn D., has put together a few magical options with the help of some of our faux botanicals and foraged finds. We caught up with her recently so she could share her process for these gorgeous gifts. Read on for her top five tips for inspired wrapping.
1. Mix and match: "For the materials, I wanted to incorporate our metal bunches with fresh and faux cuts. I chose some traditional holiday colors such as gold, verdigris, and silver but also some more non traditional like pinks and greens!"

2. Incorporate foraged finds: "I love, love, love foraged anything with everything, especially wrapping! I wanted to keep it simple this year by pairing it down to the dried berry bunch, and simple variegated ivy vine and pairing it with our metal bunches. In the past, we've even done fresh evergreen cuttings, or winterberry stems."

3. Keep it cohesive: "I started with the birch and black wrapping paper and went with the brown and white to offset the statement makers. The more neutral looking wrapping papers felt more delicate and feminine so I chose a softer look with the light pink ribbon, pink dried berry bunch, and gold bunch cuttings. I added in a pop of color with the maroon ribbon and fresh green variegated ivy vine on the brown wrapping box. I wanted them to all feel special in their own way, but definitely have the black wrapping color story be the center of attention."

4. Bring the drama: "The black wrapping paper felt very dramatic and I loved the way the gold faux stem and verdigris fern bunch played together to create this bold statement piece and of course the red ribbon added to that drama."

5. Make it simple: "I find that double-sided tape for ribbon and super adhesive dots work really well for making sure the metal bunches stay in place! And our metal bunches are perfect to cut apart and rearrange how you wish."

We hope these simple tips encourage you have fun with your own gift giving this season - our ribbons + wrapping shop is a great place to start, but don't forget to look around your own backyard!

Still shopping? Be sure to check out our online gift guide or stop by your local store for special, nature-inspired gifts for everyone on your list.
You May Also Like: