4 Plant Stand Recipes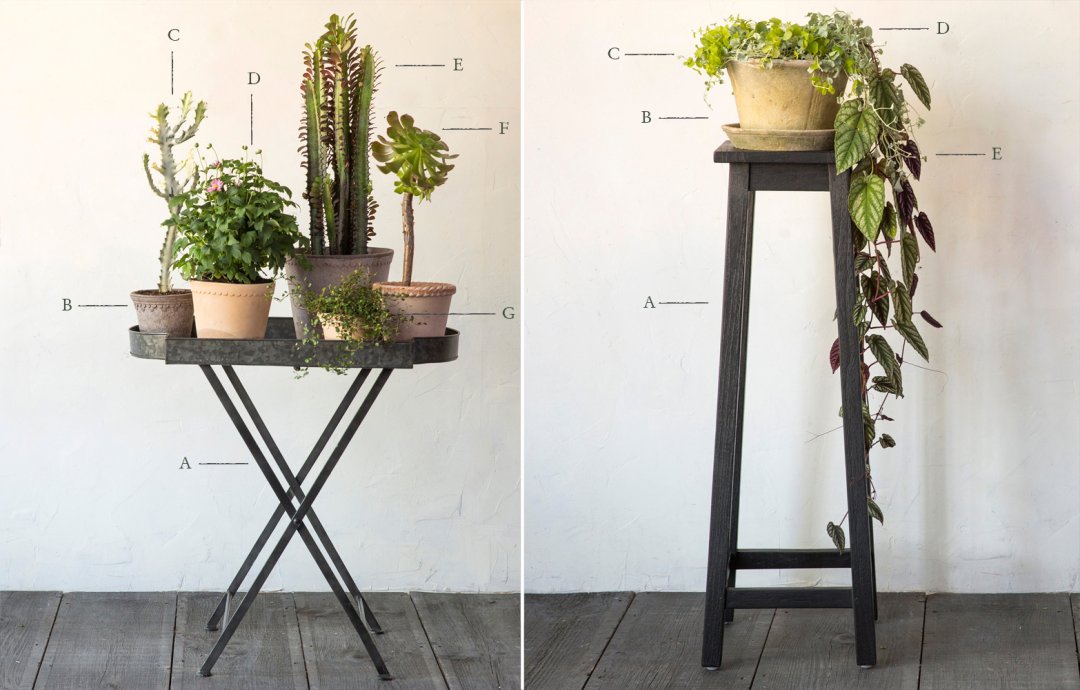 As the first frost approaches, we're making plans to bring the garden indoors. The first step? Finding a place for our favorite plants around the house. We just welcomed a fresh collection of plant stands in understated iron and rustic wood, perfect for adding a touch of green at home. Our stylist shared four "recipes" for the perfect plant stand, highlighting her favorite combinations of stands, containers, and greenery. Read on to learn how she achieved each look.
Casual & Collected: A. Folding Iron Tray + B. Købenler Pots and Saucers + C. Euphorbia lactea D. Anemone 'Pretty Lady' E. Euphorbia trigona F. Aeonium 'Desert Rose' G. Muehlenbeckia
"This plant stand is especially convenient for the transition between seasons because it has a removable tray top, which allows plants to be moved inside easily when frost is in the forecast. I paired it with a mix-and-match collection of Købenler planters and unusual specimens."
On a Pedestal: A. Protected Teak Plant Stand, Tall + B. Earth Fired Clay Thin Rim Pot and Saucer + C. Lysimachia nummularia aurea D. Dichondra 'Silver Falls' E. Cissus discolor
"Use a tall, slender stand to show off trailing plants in a low container with a matching saucer."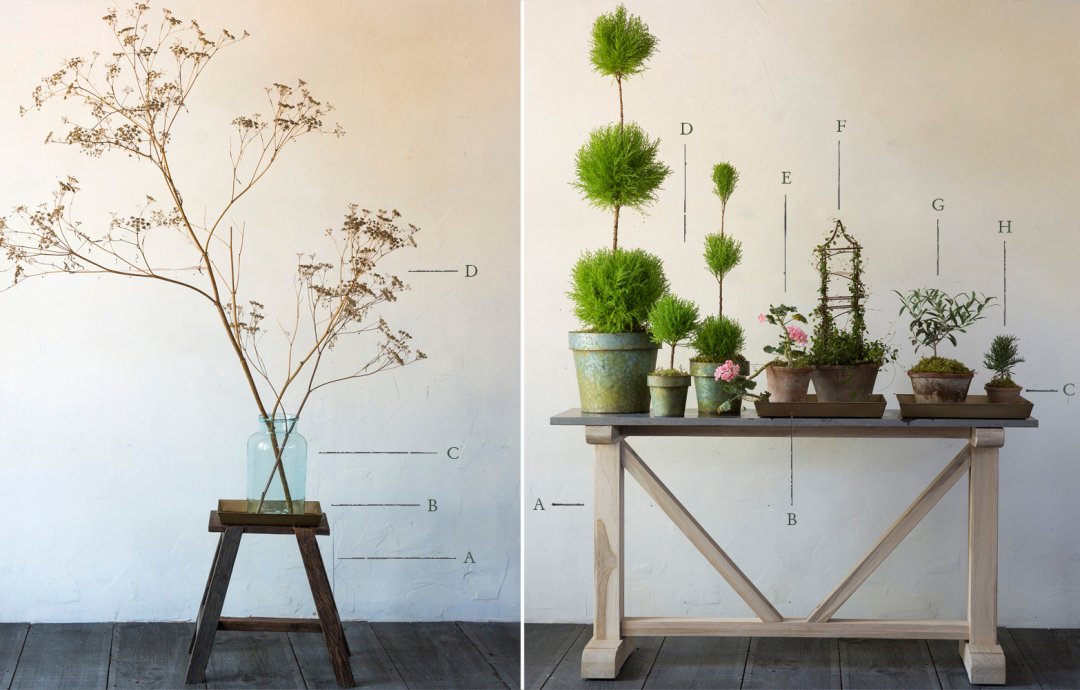 Made to Scale: A. Ironwood Trestle Stool + B. Habit & Form Square Tray + C. Vintage Hungarian Storage Jar + D. Foraged wild parsnip
"Experiment with scale by pairing a rustic, low-profile stool with a tall collection of foraged fall stems."
Fall Formal: A. Stone & Teak Console + B. Habit & Form Square Tray + C. Earth Fired Clay Pots + D. Cupressus macrocarpa 'Goldcrest Wilma' E. Pelargonium hortum F. Muehlenbeckia G. Oleaceae europaea H. Rosmarinus officinalis
"A substantial console table serves as the base for a more permanent collection of greenery. We mixed and matched a trio of cypress topiaries with some of our favorite plants in Earth Fired Clay Pots."