4 Gardens to Start from Seed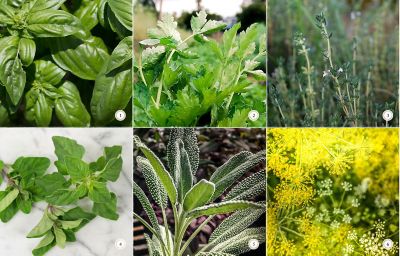 We're getting a head start on garden season this month by sprouting some of our favorite plants from seed. With more than 125 varieties currently in the seed shop, it can be tough to choose favorites! We asked our expert -- seed buyer Fran D. -- to share her perfect plant groupings for four different gardens. From fresh vegetables to bright bouquets, read on for her picks and what she loves about each plant.
Herb Garden
1. Emily Basil: "I love bold, fresh flavors, so I grow a lot of herbs in my garden. The herbs here are great to have for cooking -- they're the classics! First on my list is this petite basil, a classic Genovese variety that's the perfect size for container gardens."
2. Flat Leaf Italian Parsley: "I use this easy-to-grow parsley in lots of dishes, from meats and vegetables to soups."
3. Thyme: "A staple seasoning that's low-growing and very easy to cultivate."
4. Oregano: "I always keep oregano on hand for a fresh batch of tomato sauce."
5. Garden Sage: "Along with its great flavor, I love this sage for its lavender flowers, which make it perfect for a pollinator-friendly garden."
6. Mammoth Dill: "I like to grow dill for cucumber salads and pickles. This dill really lives up to its name, with stems up to five feet tall! Try Marketmore 76 Cucumbers for fresh salads, or Homemade Pickles Cucumbers for pickling."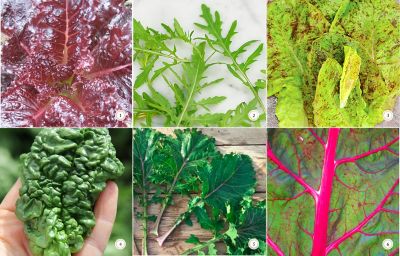 Salad Garden
1. Merlot Lettuce: "All of these greens provide unique color and texture -- they're my favorites to grow when not using a seed mix packet. First up, merlot lettuce is a summer garden staple, with a bold, earthy flavor."
2. Arugula Pronto: "I always grow arugula to spice up my salads, and this European variety fits the bill nicely."
3. Freckles Lettuce: "Another great option for bringing color to garden salads, this romaine-style lettuce is named for the red speckles on its leaves."
4. Abundant Bloomsdale Spinach: "I love the curly texture of this heirloom variety, which produces lots of dark green leaves."
5. All Stars Kale Mix: "This mix of Russian and Siberian kale varieties is perfect for adding color and texture to salads."
6. Rainbow Chard: "I always include rainbow chard in my garden because the colors can't be beat. It's also great when sautéed."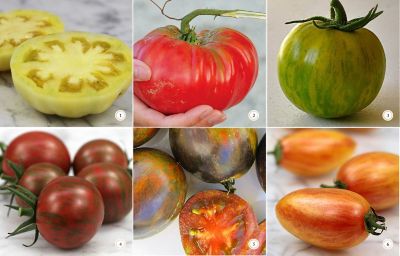 Tomato Garden
1. White Tomesol: "This unique heirloom is very fragrant, with a sweet, rich flavor. Its skin is a cool cream color, too!"
2. Pink Brandywine: "Brandywine is a classic heirloom for any tomato garden, and has an exceptional flavor for cooking or eating fresh."
3. Green Zebra: "I love the color of this tomato, which looks great in a tomato salad. It has a sweet taste with a very slight bite."
4. Purple Bumblebee: "My all-time favorite cherry tomato! This variety produces high yields and has a great flavor that works well in salads, cooked dishes, or for snacking. It flourishes in container gardens, too."
5. Cosmic Eclipse: "This super-unusual variety is noteworthy for its multi-colored skin, which ranges from black to brick red and indigo. It has a really sweet, juicy flavor as well."
6. Blush: "These cherry tomatoes are great for dressing up a salad thanks to their unique shape and striped skin."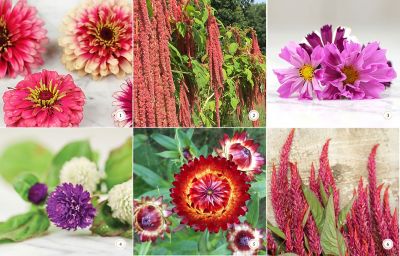 Cutting Garden
1. Mazurkia Zinnia: "Zinnias are great for cutting gardens, because they produce such full blooms. This mix provides flowers in many shades of pink and some whites, so you get lots of variety for arrangements."
2. Coral Fountain Amaranth: "This amaranth adds a low, cascading effect and lots of texture to bouquets."
3. Sea Shells Cosmos: "These plants produce a ton of delicate blooms, in a variety of pinks and purples."
4. Globosa Mixed Gomphrena: "Beautiful and long-lasting when cut, these flowers can be used fresh or dried for arrangements."
5. Strawflower: "Strawflowers are flower garden showstoppers thanks to their multi-colored blooms with intricately layered petals."
6. 'Forest Fire' Celosia: "This celosia adds height and texture to bouquets. The foliage is also beautifully colored, so it can be incorporated into arrangements."