3 Tree Projects for the Holiday Home
Trimming the Christmas tree is one of one our most anticipated and treasured holiday traditions. Our inspiration for every one of our tree looks begins outdoors, as we strive to celebrate the natural world in its many forms. In our book, published earlier this year, we featured three magical Christmas tree looks, imagined by our creative director and our incredible design team. Read on to learn more about each tree look and the creative techniques we have for combining ornaments, lights, natural elements, decorative objects, and foraged finds.

Soft and welcoming, the First Snow tree features clusters of foraged botanicals that include sawtooth oak leaves, dried Allium shubertii seed heads, and bleached protea blooms. To get the feeling of a field of tufted grasses partially covered in snow, we combined this bleached color palette with a natural noble fir dusted in a solution of diluted latex for that whitewashed look. We topped it off with glass ornaments filled with natural finds, aged metal leaf garlands, and Stargazer copper twine branch lights.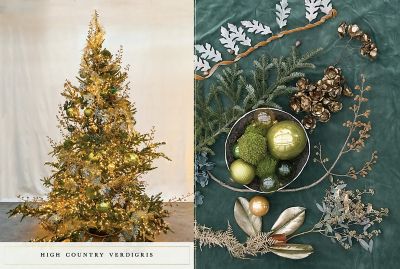 Our take on classic Christmas greenery, the High Country Verdigris tree captures the majesty of nature in a rich palette of green and gold. We left the shapely fir unsheared and wrapped six strings of twinkle lights, tracing the length of each branch for an all-over glow. The tall stalks of the paulownia tree serve as an unexpectedly striking accent thanks to their golden brown hue and knobby buds. Stamped metal garlands and gilded fresh botanicals bridge the gap between opulent and earthy ornamentation.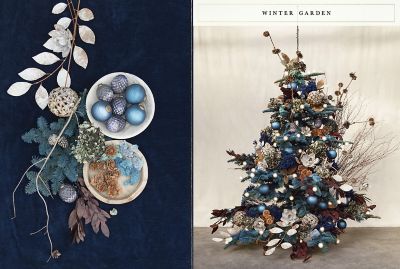 For a more sculptural, bold statement, our Winter Garden tree was inspired by a frost-laden landscape. Using a wild Nordmann fir as a base for its soft needles and open-branch layout (for ample decoration!), we added shades of turquoise, blue, and weathered gray with glass ornaments, aged metal stems, and tinted reindeer moss. Calling to mind the wild forms of an untended garden with asymmetrical natural elements, sprays of alder and scrub pine branches are wired to the trunk of a tree. And building upon the wintery theme, we wrapped four strands of frosted globe lights, garland-style, at the ends of the branches, each bulb clipped in place.
Feeling inspired to create your own Christmas tree masterpiece? Visit our Winter Shop for your perfect tree and all the trimmings!