3 Tips for New Year's Eve Entertaining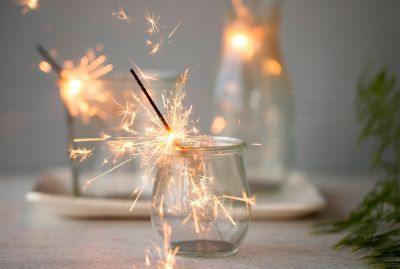 There's something so special about ringing in the new year at home surrounded by friends and family - a comfortable, cozy tradition we can't wait to celebrate after Christmas is over. And it's the simple, thoughtful touches like a signature cocktail or abundant cheese board that elevate the intimate evening from familiar to festive. We tapped our talented private events team to share their top three tips for hosting a New Year's Eve gathering at home. Read on for their effortless, elegant ideas.
1. Dazzle with delightful drinks. "An easy way to set the tone for a fabulous celebration is to welcome guests with a delicious beverage. You can gather your favorite mugs and some fun "toppers" to create a DIY hot cocoa bar (something we love do at our terrain venues!) or create a Belvoir cordial and bubbles cocktail to be served in some fancy flutes," Brianna Alcorn, our senior sales manager says.

2. Prep ahead. Emily Smith, our director of events shares, "there's nothing worse that feeling like you're stuck in the kitchen while you're playing host. When you're creating a menu, consider serving items that you can pre-make ahead of time. A beautiful cheese display can be put together earlier in the day, stashed in the fridge, and put out 30 minutes before your guests arrive. Prepping your food and decorations ahead of time means you'll spend less less time worrying and more time enjoying your soiree!"

3. Add a personal touch. "If you're celebrating with close friends and family, there are simple ways to add personal touches to make it a truly memorable evening. A unique and thoughtful way to celebrate is to prompt each guest to choose and share a word that represents their intention for the New Year. You can opt to write these words down on decorative pieces that guests can take home or consider sending them into the night with flying wish papers," Sara Doughty, our events manager explains.
We're wishing you health, happiness, and lots of green + growing plants for 2019!
Don't forget, we're also here to host your next celebration. Our Garden Shed, Hot House, and Mushroom House are available for events small and large. Event services include: Showers, Weddings, Rehearsal Dinners, Anniversaries, Engagement Parties, and Fundraisers. Contact our private events team today to learn more!
I love this idea of a DIY hot cocoa bar! I'm going to have to use that for my next party.