3 Oven-to-Table Dishes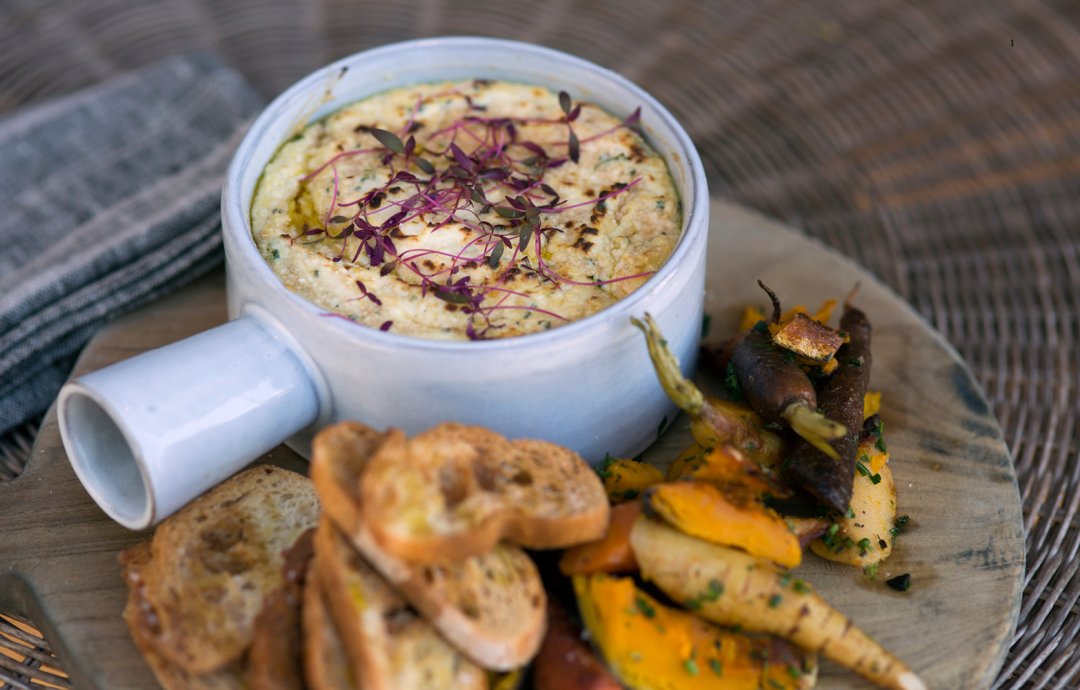 Newly arrived in our kitchen, a collection of terracotta bakeware is heading to the table. Each oven-safe dish is handmade in Portugal; we're especially loving the petite, multi-functional ramekin for seasonal serving. For recipe inspiration, we sent a trio of ramekins to our Garden Cafe chefs at Styer's and Westport. See what's on their menu for cold-weather gatherings, from appetizers to dessert.
To Start | Baked Ricotta from Styer's Chef Ryan Bloome
What was your inspiration for this dish?
Ryan: I originally made this dish a few years ago with a chef friend, Scott Megill, and my inspiration was really just its incredible simplicity. The best part of the dish is how easily you can change it. For a sweeter taste, you can add some honey, nutmeg, and rosemary plus a topping of crushed almonds or hazelnuts. If you want something more savory, add extra parsley and top it with olive oil and smoked sea salt.
Why is this one of your favorites?
Ryan: The texture and richness of baked, warm ricotta is a great way to bring people together when it's cold outside, without having to spend a ton of time in the kitchen.
What would you pair with this dish?
Ryan: I like to serve it with a crusty bread like a focaccia or rustic, seeded loaf. It's also great with big chunks of carrots and acorn squash; I roast them with olive oil and herbs until they're just a little bit burnt and creamy inside.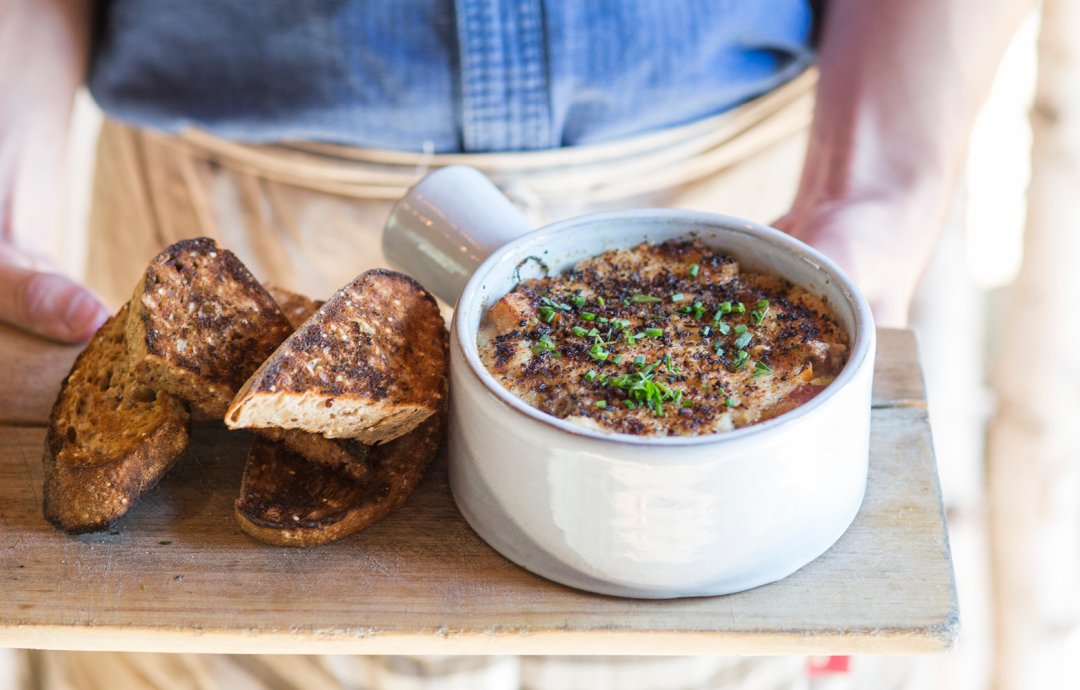 Main Course | Pork Cassoulet from Westport Chef Alissa Svorka
What was your inspiration for this dish?
Alissa: Ten years ago, I trained at the French Culinary Institute in Manhattan and had to make a lot of classic French dishes, for the sake of practicing technique. Many of the dishes felt too old-fashioned, but I fell in love with cassoulet. While it's definitely a labor of love, building all of the flavors and watching the end result cultivate over time is something special to me. This dish can really impress during the holidays, too!
Why is this one of your favorites?
Alissa: A cassoulet is the essence of cold weather gatherings. It's hearty and filling, but it can also be wonderful as a side to a meal or as the setting for another protein. If you cook it in a cast iron dish, you can just put a lid on and go. It travels, re-heats and saves so well.
What would you pair with this dish?
Alissa: I love serving this cassoulet with a really rustic sourdough. For a wine pairing, a balanced Syrah or strong Pinot Noir stands up well to the smokey flavors, and has the perfect amount of acid to combat the rich pork. An acidic, hoppy ale would be great as well.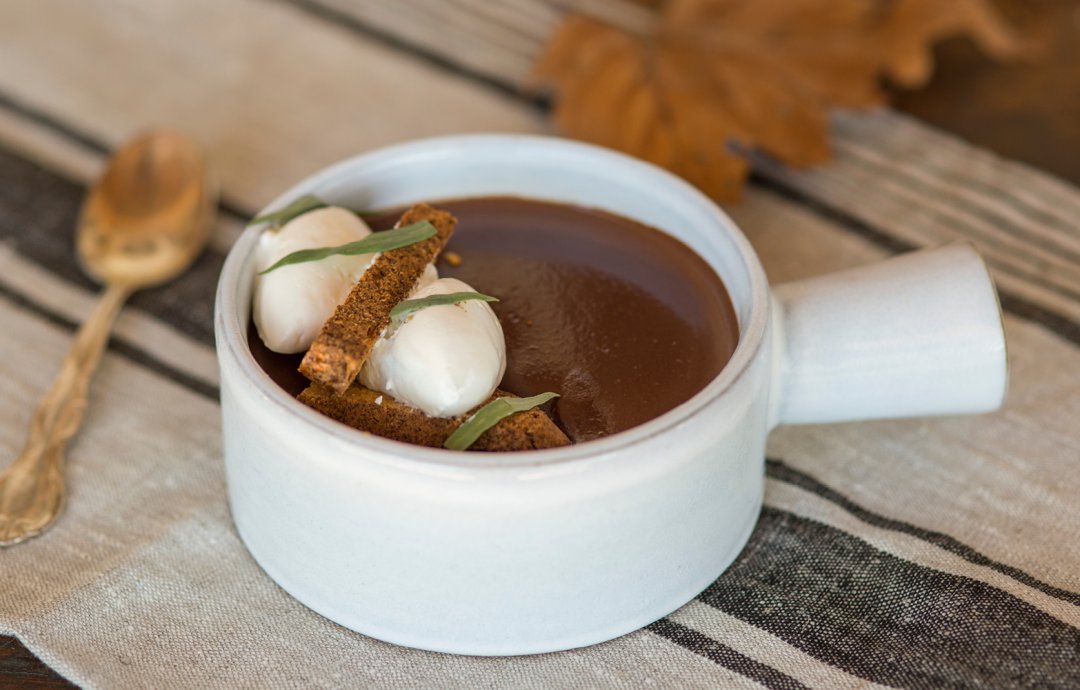 Dessert | Chocolate Pot de Crème from Styer's Pastry Chef Robert Toland
What was your inspiration for this dish?
Robert: Pot de crème is a classic in French cuisine. It's always a crowd pleaser. Who doesn't like a dish that's essentially a chocolate pudding?
Why is this one of your favorites?
Robert: As the weather changes, my appetite changes. The days get shorter and colder, and I start to crave warmer, heartier food. Light, crisp salads get replaced with rich soups. Fruit tarts and shortcakes get replaced with pies and custards. Chocolate Pot de Crème is rich and dense; it's a cozy comfort food just in time for the colder months.
What would you pair with this dish?
Robert: I added biscotti for a little crunch to contrast the smooth, soft texture of the custard. And if I'm having biscotti, why not have a cup of coffee as well?
Need those bowls!! -Amanda http://advicefroma20something.com