3 New Indoor Plant + Container Styles
Houseplants are incredibly versatile. But with so much variety, it can be intimidating to pick out the right statement piece, especially when it comes to choosing a container to fit your room style. So our team at Design by Terrain created three different arrangements for three different design tastes.

1. Natural: The Elephant's Ear (Alocasia Black Stem, pictured above) is known for elegant black stems and glossy green foliage. We've planted it in a large wicker basket planter and topped it off with clump moss. This gorgeous statement piece has a classic natural aesthetic that blends easily.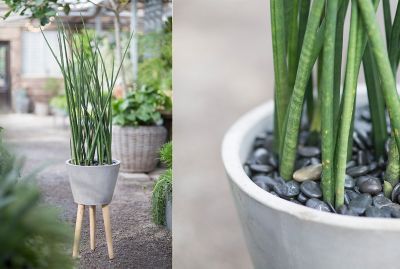 2. Contemporary: The Sanseveria Lancia has a striking modern silhouette. We've potted it in a soft concrete wooden leg taper pot and finished it with glossy black rocks to emphasize the clean lines and height of the Sanseveria.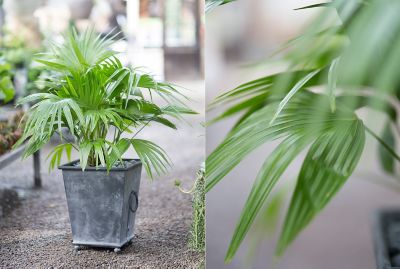 3. Estate: We love this unexpected pairing: a tropical Palm Livistonais potted in an antiqued iron taper and topped with grey rocks. The palm's leafy fans make a soft organic counterpoint to the container's more traditional design.
Viva la flora! I have a spot for Sansevernia Lancia; I can't wait to bring them into my nest...happy nesting.