3 Monochromatic Planting Ideas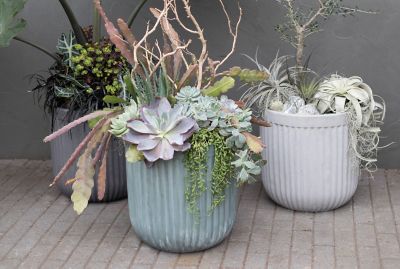 While we'll always love colorful containers bursting with brightly hued blooms, there's something unexpectedly elevated about a subdued, monochromatic planting that feels fresh for spring. And since we've just released new colors of our beloved fiber concrete barrel pots, we thought we'd challenge one of the talented artists on our Design by Terrain team, Deborah H., to create three unique monochromatic plantings with these lightweight, hand-crafted pots as a base.

Of the designs, Deborah says "the fiber dolly pots are the perfect size for creativity and the fabulous new colors were all the inspiration I needed for a dramatic monochromatic look. When designing in one color pallet, it's important to focus on plant choice, scale, silhouette and texture. Monochromatic plantings can be a fun exercise in editing and design."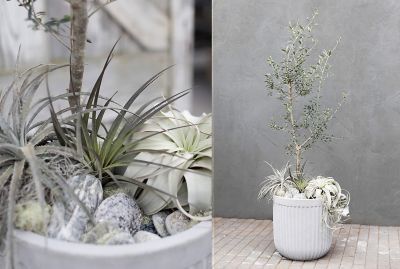 LIGHT GRAY: Here, the dusty silver olive tree "led the way" for the design concept. Deborah says "the drama comes in the fabulous underplanting of tillandsia." And in keeping with the pallet of gray and silver, a tumble of chunky stones finishes off the minimalist design.


BLUE GREEN: "Succulents were an obvious choice for the fabulous new blue green planter," Deborah says. Using echeveria, epiphyllum HB, aloe vera, and senecio, Deborah created a planting that is "all about color, shape, and movement with the cool shades of the large specimens working perfectly with this container." She finished off the asymmetrical design with a "twist of driftwood to add a coastal flair."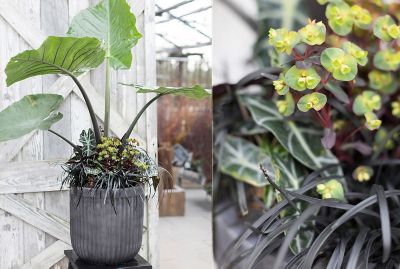 DARK GRAY: "'Dark and moody' was the plan for the dark gray planter with the canopy of the beautiful alocasia soaring above a dark and dramatic understory," Deborah explains. Here again, texture and shape take center stage with the mix of alocasia dark star, alocasia polly, black mondo grass, and euphoria.