3 Bandana Uses We Love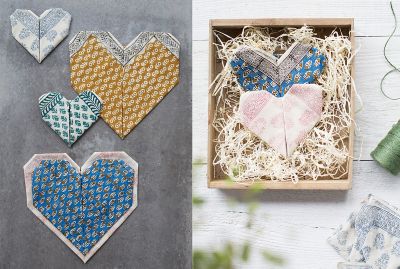 When these pretty, block-printed bandanas showed up from Nani Pani, we knew we needed an excuse to use them not just in our hair, knotted around the neck, or as tie-on to our everyday totes (though we're definitley using them there too!). Cue our stylists, who came up with 3 sweet ideas for making use of these soft cotton squares for special ocassions.
1. A Heartfelt Gift: Using origami folding inspiration, place your bandana on a flat surface oriented like a diamond. Fold the top corner down to the center, then fold the bottom corner up to the top edge of the bandana. Take the bottom left and right edges and fold in vertically to the center crease. Tuck the top and side corners down and voila, a sweet little something for someone you love.
2. It's A Wrap: A small token becomes an incredibley special gift when wrapped with this brightly printed bandana and tied with a spring of something fresh from the garden.
3. Bandana Bunting: Decorate a party or a porch with the cheerful colors of these cotton squares, folded in half to form a triangle, tied end-to-end, and strung in a sunny spot.