The 2018 Holiday Store Tour
There's no better time than the holidays to showcase our visual and creative teams' inspiration, imagination, and ingenuity. From festive Design by Terrain arrangements to magical lighting moments, our stores welcome shoppers with one dazzling display after another. This year was the first holiday season for Devon Yard, so we stopped by to tour the grounds and see how our newest location looks all lit up for Christmas.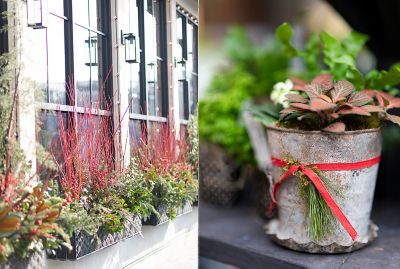 Pops of red ribbons, berries, and branches are perfectly Christmasy complements to natural green foliage for our seasonal displays, from dramatic window boxes to rustic pots for gifting.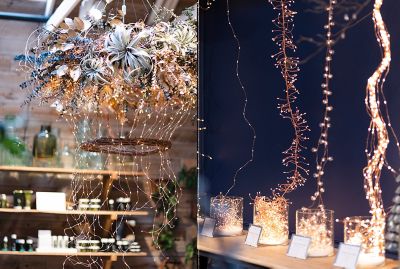 A stunning hanging grapevine wreath is topped with a lush arrangement of faux tillandsia, painted eucalyptus, and dried branches - and accented with a second grapevine wreath and glowing Stargazer strands. Our Stargazer strands look stunning, simply lit and strung against a blue backdrop.
Our bottle brush trees add a fanciful accent to holiday scenes. These painted trees are crafted from coir fiber, extracted from the outer shell of a coconut. Each tree is handmade and those variances in size and shape celebrate the imperfections found in nature.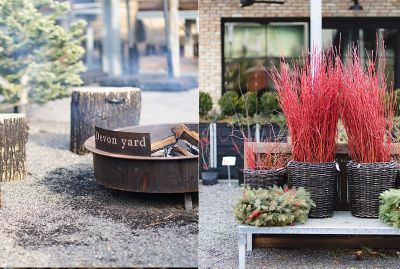 The fire pit is one of our favorite spots at Devon Yard during the holidays - we love inviting shoppers to take a break and warm up with a cup of hot cocoa from the cafe or a roasted marshmallow for a s'more. And these bright red branches and fresh wreaths make a naturally dramatic statement clustered together in the nursery.
Metallic accents like globe ornaments, pendant lights, pine cones, and branches bring a festive touch - and our reindeer moss wreaths add a shock of color surrounded by aged verdigris.
Feeling the holiday spirit now that you've taken the tour? Visit your local terrain store to see the magic for yourself!