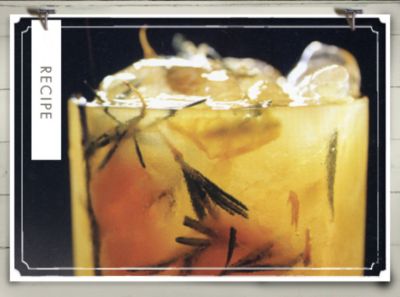 A fine way to end the week, from Carroll Gardens' Brooklyn Social and The New Brooklyn Cookbook.
Riposto
Makes 1 drink

Brooklyn Social, Carroll Gardens
Brooklyn social is arguably the granddaddy of the borough's modern cocktail scene – and it only opened in 2004. This drink is named after Societa Riposto, a social club that occupied the smith Street space before the bar took over. Riposto was the Sicilian hometown of its members.
Leaves from a short sprig of fresh rosemary, plus a sprig for garnish
2 or 3 segments of peeled tangerine
Splash of Triple Sec
2 oz. vodka
Muddle the rosemary leaves and tangerine with the triple sec in a cocktail shaker. Add the vodka and shake with ice. Serve on the rocks in an old-fashioned glass. Garnish with sprig of rosemary.
The New Brooklyn Cookbook, by Melissa Vaughn & Brendan Vaughan. Photography by Michael Harlan Terkell. William Morrow, $40