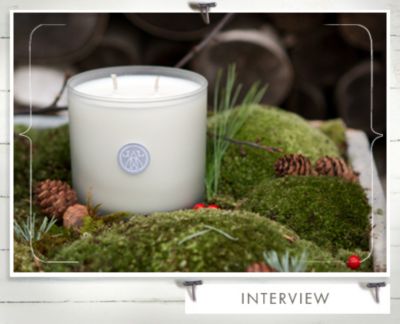 Linnea's Lights share with us their inspirations behind the wildly popular Fir Candle and what they're looking forward to in the New Year.
terrain: The Forest Fir candle is a definite winter favorite – what was your process for perfecting this scent?
Linnea's: We drew inspiration from our experiences of getting fresh trees for our homes - the crisp feeling in the air, the scent of the sap on your hands and the vibrance of the tree itself. All those items inspired the forest fir scent; it's meant to invoke the feeling of having a fresh cut tree along with the zest of winter in your home.
terrain: How does the Linnea's Lights family celebrate the holidays?
Linnea's: We love to enjoy the holiday season with laughter and joy of being together. We put up a holiday tree and a menorah in the studio to celebrate all our religions. We trade names and play "Secret Santa" and listen to holiday music on Pandora while we make and prepare candles.
terrain: What do you love most about the holidays?
Linnea's: The first snow fall, preparing the Christmas tree as a family while sipping hot chocolate with candy canes, and Christmas Eve - it's so magical, elegant and loving when we are all together.
terrain: What are you looking forward to in the New Year?
Linnea's: We are looking forward to growing with our loyal partners and finding new ways to bring Linnea's Lights into people's homes. We are also really excited about doing more for those in need and creating a platform in which to "share the lights" and make a difference where it matters most.