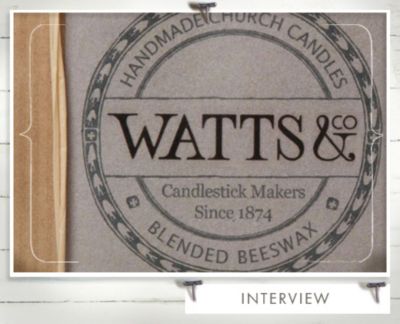 British candlemakers Watts & Co. tell us about their centuries-old technique and their connection to the iconic red telephone...
terrain: Tell us about the history behind Watts & Co..

Watts & Co.: Watts & Co was formed by a group of leading 19th century architects, who wanted a company that could provide high quality furnishings and fabrics for their buildings that would be "items of artistic character", and which they designed themselves.
Since it was founded in 1874, the company is still owned by the descendants of one of the original founders, George Gilbert Scott II - the Gilbert Scott family having produced several of Britain's most distinguished architects and designers, including Giles Gilbert Scott, the creator of the iconic British red telephone box!
terrain: What kinds of natural ingredients go into your candles, and what is your process for making them by hand?

Watts & Co.: We work with pure beeswax blended with natural vegetable oils, which form the principal ingredients in our candles. These materials are sourced from renewable, natural resources whenever possible and are hand blended to give the highest quality candle wax.
The wax is then hand-poured into moulds, with the wick being first strung through the mould. The finished candle is then "polished" by hand to complete it.