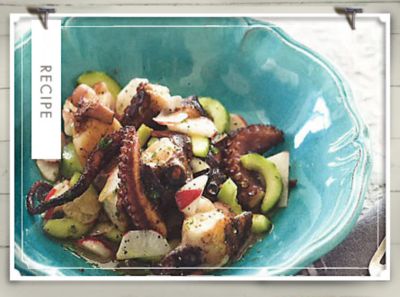 Take advantage of the last few nights of late-summer grilling with this Spanish delicacy from Rustica: A Return to Spanish Home Cooking.
Pulpo a la Plancha, or Octopus on the Grill
Yields eight small servings or six servings
The people you bump into! I met a fishmonger in the Cambados fish market, Josef Rei, who used to work as a cane-cutter in Northern Queensland. He missed the Galician winter and went back to live in Spain but was still thrilled to see an Australian. He wanted to give me some amazingly beautiful baby mackerel. I said I had nowhere to cook them, so instead he gave me this recipe for cooking octopus, which he referred to as "Galicia's National Fish." Its simplicity produces one of the most flavorful dishes. You lay the thick legs of the octopus on the hottest grill you can muster, then, cooked rapidly in its own juices under a heavy weight; it becomes tender and super intensely flavored. The juices from the grilled octopus are used to dress the salad.
3 ½ lb octopus, frozen overnight, then thawed
½ lb red radishes, trimmed
3 small cucumbers
1 tablespoon chopped parsley
1 cup extra virgin olive oil
Juice of 1 lemon
Bread, to serve

Remove the head from the octopus and discard.

Heat a flat, lightly oiled grill grate as hot as it will go. Place the octopus on the grill, then cover with a heavy baking sheet and place a heavy weight, such as a cast-iron saucepan- on top. Cook the octopus for 7 to 10 minutes on each side, then remove the heat, place in a bowl and allow to cool. Slice the octopus into 1-inch chunks and return to the bowl with any juices.

Peel the radishes and cucumbers, leaving on a little skin to add a flash of color to the plate. Cut the cucumbers in half lengthways, remove the seeds using a small spoon, and then thinly slice the flesh. Cut the radishes in half lengthways, then thinly slice and add to octopus chunks with the cucumber, parsley, olive oil and lemon juice.

Toss gently and check the seasoning. For the best flavor, serve the octopus while it's still warm, with plenty of bread to sop up the juices.


Rustica: A Return to Spanish Home Cooking
by Frank Camorra & Richard Cornish. Photography, including above, by Alan Benson. Chronicle Books, $35.00