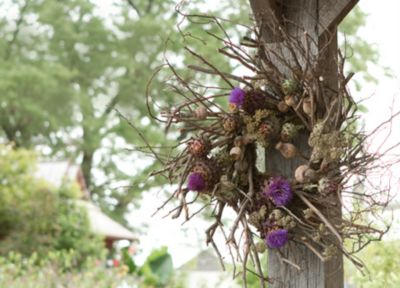 Struck by the simplicity of our new Blueberry Branch Wreath, we couldn't resist trying a few new uses for this lovely ring of Pennsylvania branches.
1 | Take it outside: Who said a dried wreath needed to be confined to the indoors? Lately, we've been taking ours to the great outdoors to hang on porches and along garden gates. (see above)
2 | Ring around the rosie: We love the look of the wild blueberry branches nested into the base of a favorite autumn planter.
3 | Light up: A simple light fixture goes from spare to statement when ringed in our blueberry branches.