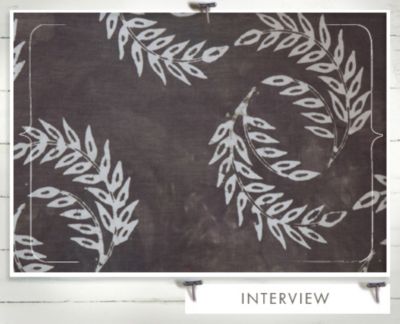 Her batik table linens are setting the tone for our feasts this season, so we asked artist Margot Myers to tell us more about her own traditions around the holiday table.
terrain: When it comes to entertaining at the holidays, what are your favorite elements for a lively celebration?
Margot: I like to plan a meal that everyone can participate in making together. I really enjoy that the time spent dicing, peeling, saucing and checking the oven together in the kitchen that gives everyone's hands something to do while we catch up with all the news and stories. It seems like the meal tastes better if everyone has been involved in making it, too.
terrain: What is inspiring your holiday table this year?
Margot: I would say the central inspiration will be making a traditional meal using only seasonal or home preserved foods. The past few years have been a time for me to learn more about what we eat. We've been trying to consume only locally produced foods, including a wider and wider range of foods that my husband and I grow in our home garden. So, this year we will try to incorporate as many foods we can that we cultivated, stored or preserved ourselves.
terrain: Your tablecloths and linens set such a beautiful backdrop for a festive dinner. Can you tell us a bit about your process?
Margot: It's such an honor for me to think about my work being used for such special occasions.
My work is created in the time honored tradition of wax resist batik printing with copper stamps, called tjaps. The method of batik tjap printing was developed at the turn of the century in Indonesia, in an effort to make beautiful fabrics more quickly for the European market. Today, of course, this painstaking work is not done by many people.
terrain: What can you tell us about the environmental impact of your process?
Margot: In addition to creating products that I enjoy using in my own kitchen, I also focus on creating colors on fabrics in the most responsible way possible. I use the lowest volume of water possible for each vat, I reuse boil and rinse water until it is fully used up, and the water I use to make these baths is collected from barrels that my husband hooked up to gutters on my studio roof. I use a woodstove to heat my studio space, and also to boil my batiks during the colder months. I reclaim and reuse my wax, and also minimize the amount of dyestuffs and setting agents I use by allowing my fabrics to soak in the dyes for days before rinsing them. My fabric is line-dried once it is finished. I really care about having a minimal impact on the environment as much as I care about creating a beautiful, lasting product.