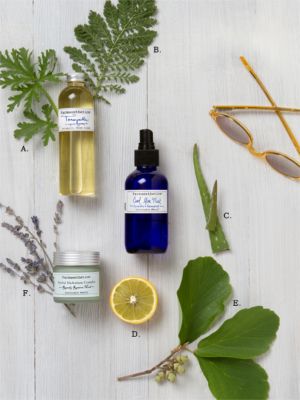 This summer, our favorite skincare treatments take a cue from nature. A Tansynella Bug Screen, Herbal Hydration Complex, and Cool Aloe Mist all from Farmaesthetics, are our must-haves, each blended with potenent organic herbs to soothe and protect.
A. Citronella - naturally keeps bugs at bay
B. Tansy - soothes the nervous system & calms allergies
C. Aloe- cools, heals, & hydrates the skin
D. Bergamot- relieves dry skin, wards off infection, & soothes blemishes caused by stress
E. Witch Hazel - a powerful astringent to moisturize, fight inflammation, & protect the skin from sun
F. Lavender- calms the mind & body, while speeding recovery of skin damage & sore muscles
With these herbal sun heroes, a woven shade hat and our newest sunreaders, we have everything we need for a day at the beach or soaking in the garden!