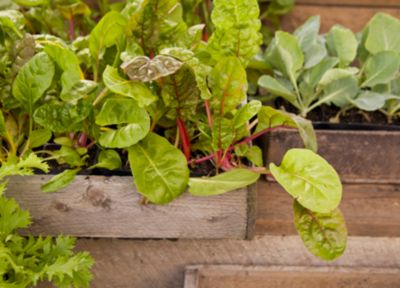 Every so often, our friends at the Stone Barns Center for Food and Agriculture send us a tip for tending our own gardens. Here, they share inventive ideas for easy edible container gardens.
"There's no feeling quite like tending to your own garden of edibles. The garden-to-kitchen experience is oh-so-valuable and a great way to connect with nature, food, friends and family. It's part of Stone Barns Center's mission to re-connect people to food and farming in this very way—through hands-on experiences. If you have access to an outdoor space, but not one that allows for in-ground or raised beds, worry not, a container garden can an equally rewarding growing (and eating) experience. So Stone Barns invites you to create a beautiful and personal container garden with these helpful tips from the farm on growing some of our favorite varieties.


Know your garden
A container garden has slightly different needs than a traditional in-ground one. Here are some useful ways to keep your plants healthy and your plates full.

* Cluster your pots together—this creates beneficial cool airflow in between your plants.

*Become a faithful waterer—potted soil dries out much more quickly than in the ground.

*Pick high-volume producing varieties of the food you like to eat. Cherry tomatoes, for example, will yield more fruit than a full-size variety. And plants like lettuces, chard and pattypan squash—which can be harvested multiple times—are excellent picks.

The Tomato and Herb Pot
In a large pot (a minimum of 14 inches wide and 16 inches tall) center one tomato plant with a trellis to support the branches, which get heavy when the fruit comes in. Surround the base of the trellis with two thyme and two parsley plants.

The Salad Pot
Stone Barns Vegetable Farm Manager Jack Algiere recommends Johnny's All-Star Gourmet Lettuce Mix seeds for this container. In a 12-inch by 12-inch pot, sow lettuce seeds following the packet instructions—about ½-inch apart is best. When any head grows to four inches tall, harvest all of the leaves from the base, leaving one inch of growth behind. Repeat each time a plant reaches four inches in height. Once production slows and leaves begin to yellow, pull up the whole crop by the roots and reseed.

The Hearty Green Pot
'Bright Lights' is a Stone Barns farm-favorite variety of Swiss Chard. Stunning with its rainbow of colored stalks, it is an impressive, tasty and highly nutritious green. When healthy, this chard is a super producer, good for steady harvesting—just pick the outer leaves and it should last for months. Since they can be tough to grow from seeds, transplant two to three seedlings—check your local nurseries and farms—into a large pot.

The Green Pot with a Bite
Arugula is a real crowd-pleaser. This slightly spicy green, an annual herb and part of the mustard family, adds a pleasant punch to any salad mix. Stone Barns is a farm-fan of the 'Astro' Arugula variety, which is slightly milder than others and is well suited to container growth. In a 12-inch by 12-inch pot, sow seeds following packet instructions. Plants will be ready for a first harvest of "baby" leaves in 13 days. Trim leaves from the outside and leave one inch of growth behind."


Stone Barns Center for Food and Agriculture is a non-profit farm and education center located just 25 miles north of Manhattan in Pocantico Hills, New York. Stone Barns operates an 80-acre four-season farm and is working on broader initiatives to create a healthy and sustainable food system. It is open to the public all year round from Wednesday through Sunday 10am-5pm. For more information about their work, and details on seeing the farm, visit their website at www.stonebarnscenter.org.