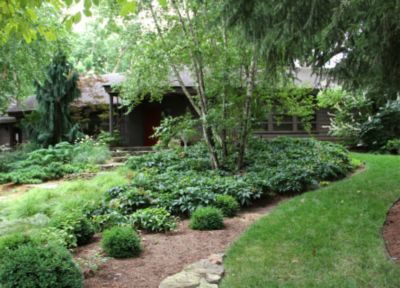 An avid and experimental gardener since his early days, our creative director, Greg Lehmkuhl, is most interested in continually learning what works in the garden. When a new frost-proof container arrives at terrain, Greg wants to see it weather a winter on his own landscape. Or when a customer stops by the nursery asking if a certain indoor plant could thrive outdoors, he wants to be sure he can give the right answer. "It's not always about looking pretty," he says.
Of course, to our eyes, it's still mighty pretty.
Containers planted on the path make unexpected stopping points along the way. "I like to get creative with my shade containers," Greg says of terrain's Lotus Planter in his garden.
In lieu of an expansive lawn, Greg built a natural path to guide visitors through the shade garden.
Greg's Favorite Shade Plants for Bright Color
Clockwise: Epimedium grandiflorum, Stachyurus praecox, Astrantia major, Tiarella cordifolia, Hakonechloa macra, Epimedium warleyense
A word of advice
For Greg, early investments of time paid off in a low-maintenance garden to enjoy in the years since he moved into his home.
1. The sandy soil in his own garden needs daily watering, even in the shade. For that, Greg installs simple drip irrigation on timers for all of his plantings (available at www.dripworks.com).
2. Using perennials as the base for his planters, with little effort Greg can freshen the look by sparingly subbing annuals in and out as the seasons change.
Extras:
Several seasons ago, a customer asked if this vintage potted hydrangea would thrive outdoors. When our grower wasn't certain, he planted it at home to find out. The answer? Indeed it does.
Sunny Spot: A favorite of his summer blooms, this Chocolate Cosmo is a reminder of the real thing.
"It's not always about looking pretty," Greg says, "It's about learning what really works in the garden." To that end, he's not afraid to try something new.