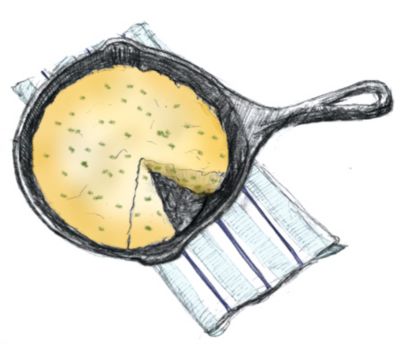 In a little less than a week, our Westport executive chef, Joe Wolfson, will be one of four chefs preparing a Whole Hog dinner in support of our friends at Wholesome Wave, and their programs to increase access to fresh, healthy foods in historically underserved communities.
The Whole Hog
Thursday, May 24, 2012
6:30P
64 South Main St.
South Norwalk, CT
For more information or to reserve your place for dinner with four of the Westport area's most celebrated chefs, please visit http://wholesomewave.org/getinvolved/ For friends of terrain, Wholesome Wave has generously offered two tickets for the price of one, by calling 203-226-1112 and mentioning terrain.
In the meantime, Chef Wolfson wanted to share this preview of what's to come. In addition to two unusually delicious pork dishes, this Southern transplant will be preparing his famous skillet cornbread to share.


Jalapeno Apple Cornbread

1 lb butter plus additional for greasing your pan
2 1/2 cups white sugar
8 eggs (room temperature)
4 cups buttermilk
2 teaspoon baking soda
4 cups cornmeal
4 cups all-purpose flour
9 teaspoons salt
1 cup shredded yellow cheddar, plus 1/4 cup
4 jalapenos roughly chopped, plus 1 additional
3 Granny Smith apples peeled and medium diced
Directions

1. Preheat oven to 375 degrees F. Grease a cast iron skillet or bread pan with butter.
2. Melt 1 lb. butter in large skillet. Remove from heat, add sugar, and whisk until melted. Add in the eggs and buttermilk, and beat until well blended. Stir in baking soda, cornmeal, flour, and salt, along with one cup of the cheese and four of the chopped jalapenos. Whisk until well blended. Pour batter into the prepared pan and top with the remaining peppers and cheese.
3. Bake in the preheated oven for 30 to 40 minutes, or until a toothpick inserted in the center comes out clean.
4. Allow to cool before removing from pan, and serve warm.