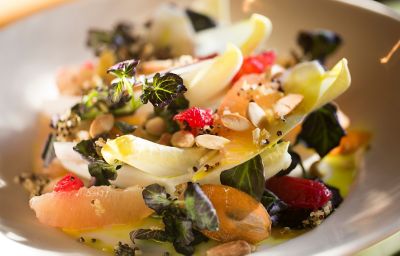 For a January jumpstart, we're heading into the kitchen and adding healthy recipes to the menu. One of our recent favorites is the salad above, from Garden Café chef Ryan B. This refreshing dish puts superfoods in the spotlight, packed with beneficial ingredients and vibrant colors to brighten the table. Learn more about the benefits of five favorite superfoods, then read on for the recipe.
Kale: Packed with antioxidants including vitamin C and beta-carotene, kale helps to combat cellular damage that can be caused by free radicals. It also offers a boost for beautiful skin, helping to improve elasticity and fight wrinkles or fine lines.
Quinoa: Though considered the "mother grain" by the Incans, quinoa is actually a seed-- and a healthy addition to any meal. It boasts enough essential amino acids to be considered a complete protein, and is also high in minerals including calcium, zinc, and iron. Its balance of carbs and protein make it a great food for boosting energy and post-workout recovery.
Grapefruit: High in vitamin C as well as antiviral phytonutrients, grapefruit provides an immune boost that can be especially beneficial during cold and flu season. Vitamin C also helps to raise levels of the antioxidant glutathione, which can help to reduce stress.
Almonds: One of the most nutritionally dense nuts, almonds are high in protein and fiber. They're also a great source of vitamin E, iron, calcium, and potassium.
Turmeric: Used as a medicinal plant for thousands of years, turmeric is an excellent remedy for inflammation. In fact, it contains more than two dozen compounds that can help to alleviate or prevent pain, swelling, and inflammation. Turmeric also helps to boost liver function for an all-natural detox.