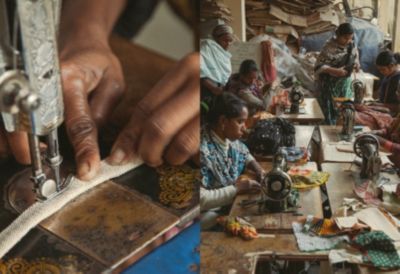 Each season, terrain partners with inspiring artists, makers, and designers; this holiday, we're especially excited about collaborating with Apolis to create the "Forage On" Market Tote. Apolis literally translates to "global citizen." We sat down with global citizens and co-founders, Shea and Raan Parton, to learn more about their ethos of "advocacy through industry," and how businesses can create social change.
terrain: What sparked your desire to begin making bags?
Apolis: Rather than starting with a desire to make bags, we began with a traveled upbringing and a desire to advocate through industry. We grew up in Santa Barbra, California and it was our parents' firm belief that we couldn't appreciate our home town if we didn't see the world. They also held stock in the proverb "Give a man a fish and you feed him for a day. Teach a man to fish and you feed him for a lifetime." Rather than giving the artisans we work with fish, we help them find the pond-- teaching the skills and providing the tools to create something meaningful and marketable. Our brand is based on simple, unisex products that are easy to execute. We currently work with artisans in over 15 countries, taking a holistic approach that includes craftsmen, skills, and natural resources from each location to boost multiple industries. For example, in Bangladesh, where the "Forage On" tote and our other market bags are made, the country mandates jute growth. Knowing the abundance of jute, we worked to create a product that utilizes the natural resources of the country. We find what works and design backwards.