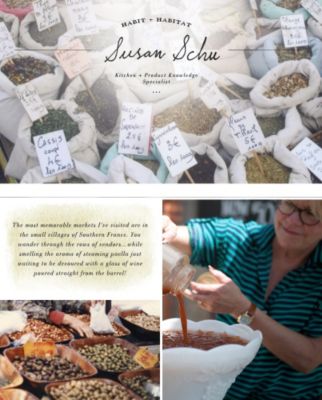 Ever wonder what the folks at terrain do when we're not in the garden? In our monthly series, Habit + Habitat, we're finding out by asking one person to share a favorite habit and a beloved habitat. This month, we're chatting with culinary enthusiast Susan about her favorite ingredients, dishes, and farmer's markets, near and far.
terrain: What is your role at terrain?
Susan: I am the Kitchen Specialist and Product Knowledge Specialist for terrain in Glen Mills. As Kitchen Specialist, I present workshops and demonstrations on various culinary topics, prepare and offer tastings from our cookbooks, sample our packaged food, and more. As Product Knowledge Specialist, it's my responsibility to share the stories of the products we sell with colleagues and customers. Our products have unique stories that make the purchase meaningful.
terrain: What's the one word that describes your habit, and one that describes your habitat?
Susan: I think the best word to describe my habit, cooking, would be "passionate." I've always had a passion for cooking and culinary pursuits– for as long as I can remember, I've been collecting cookbooks and creating home-cooked food for the people I love. Spending time in my kitchen, whether I'm chopping fresh vegetables or rolling out dough for a pie, is relaxing and pure pleasure for me. I know that may sound crazy for some people, but it's true!
My habitats are the wonderful farmer's markets, produce markets and roadside stands in the greater Philadelphia region-- places like Reading Terminal Market, 9th Street, and the markets in Lancaster County. I would describe these places as "inspiring." When I see pristine haricot verts, I'm inspired to make a Nicoise Salad the following day. Or when I see beautiful, blushing crimson rhubarb, I know there will be a rhubarb pie in my future. Don't even get me started on heirloom tomatoes!