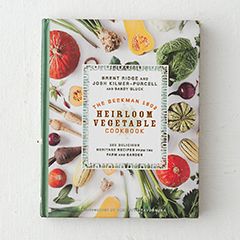 When we heard that Dr. Brent Ridge and Josh Kilmer-Purcell, the Manhattanites-turned-farmers better known as the "Beekman Boys," were following up their debut collection of heirloom recipes with a collection of heirloom dessert recipes, we knew just who to talk to as the season for holiday treats approaches. The duo has been hard at work—tending to their upstate New York homestead and spreading the word about The Beekman 1802 Heirloom Dessert Cookbook—but Brent found a few minutes to tell us about one of his favorite recipes, as well as some other heirlooms in his kitchen. After the interview, check out Brent's tips for the perfect Kabocha Squash Pie and five Beekman-approved baking essentials from the terrain pantry.
terrain: What inspired you to collect and share heirloom recipes? How did you go about gathering them?
Brent: When we were working on the first heirloom recipes cookbook, Josh and I looked back to the dishes we remembered best from our childhoods. In the process, we thought a lot about what makes an heirloom recipe. We decided that an heirloom recipe is any dish made so often in your family that it develops its own story or mythology. We also came up with three criteria that every recipe had to meet: 1. It had to be delicious, of course. 2. It had to be relatively simple to make. 3. It had to use ingredients that weren't hard to find. Without those elements, a recipe would never be made often enough to become an heirloom.