When

Saturday, Sep 28 | 1100-400P
Where

Glen Mills, PA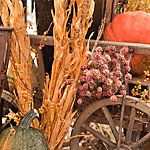 With the harvest on the horizon, we're celebrating the season with a day of autumnal activities, from mushroom foraging and pumpkin planters to caramel apples and fall sun printing.
This event is free and open to the public. Additional costs will apply for some activities.
The Brooklyn Flea at terrain
Brooklyn Flea's Philly market visits Glen Mills with a sampling of standout local vendors
Mushroom Foraging
With expert mushroom forager Jeremy Umansky
Autumn Artifact Plantings
Find inspiration for autumn planters as our nursery team showcases ways to incorporate artifacts into botanical displays.
Fall Foliage Sun Prints
create one-of-a-kind artwork on paper with the help of our favorite sun printing kits
Expert Tips: Curated Style at Home
enhance your home décor using our thoughtfully chosen antiques, artifacts, and found objects.
To reserve your consultation, please email events@shopterrain.com.
Caramel Apples
sample delicious caramel apples, freshly dipped by our culinary specialist.
Naturally Dyed Cornhusk Wreaths
dye dried cornhusks naturally, then use your colorful creations to make a stunning, autumn-inspired wreath
Critter Pumpkins & Gourds
transform a pumpkin into a cute woodland critter, using acorns, sunflower seeds, and other items from around the garden
Wood Monogramming
monogram or personalize any of our wood products with a design of your choosing from our expert wood worker
Reservations are recommended
W.P. Mason Cocktail Tasting
Join our friends from W.P. Mason to sample some signature cocktails made in their timeless Mason jar shakers.
Wall Art Inspiration
curated collections and new ways to frame your most prized art and artifacts.
Planted Pumpkins
transform a fall garden favorite into a planter as you fill a hollow pumpkin with colorful autumn blooms
Top of Page