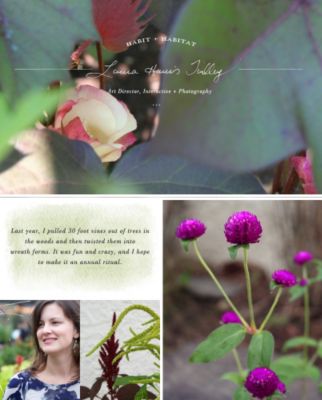 Ever wonder what the folks at terrain do when we're not in the nursery? In our monthly series, Habit + Habitat, we're finding out by asking one person to share a favorite habit and a beloved habitat. This month, we're chatting with Art Director Laura Harris Twilley, the creative mind behind our photography and interactive design. Laura and her family recently moved out of the city, where she's growing a habitat-- a crafting garden-- inspired by her habit of making beautiful, botanical creations.
terrain: What is your role at terrain? Can you describe your typical day?
Laura: I'm Art Director of Photography and Interactive. A typical day entails conversations with the team about upcoming projects, looking at various visual references and pulling ideas together, going through the website, and finding areas to continually inspire and provide for our customer.
terrain: How did you come up with the idea for a craft garden?
Laura: During the fall last year, I moved to a home with yard for the very first time as an adult. I was so inspired by what I could create with the harvest all around me: wild berry vines, pinecones, seed heads, etc. I thought it would be fun to actually grow the materials for what I make.